Most Instaworthy Spots At
Lexis Hibiscus Port Dickson
Published July 31, 2023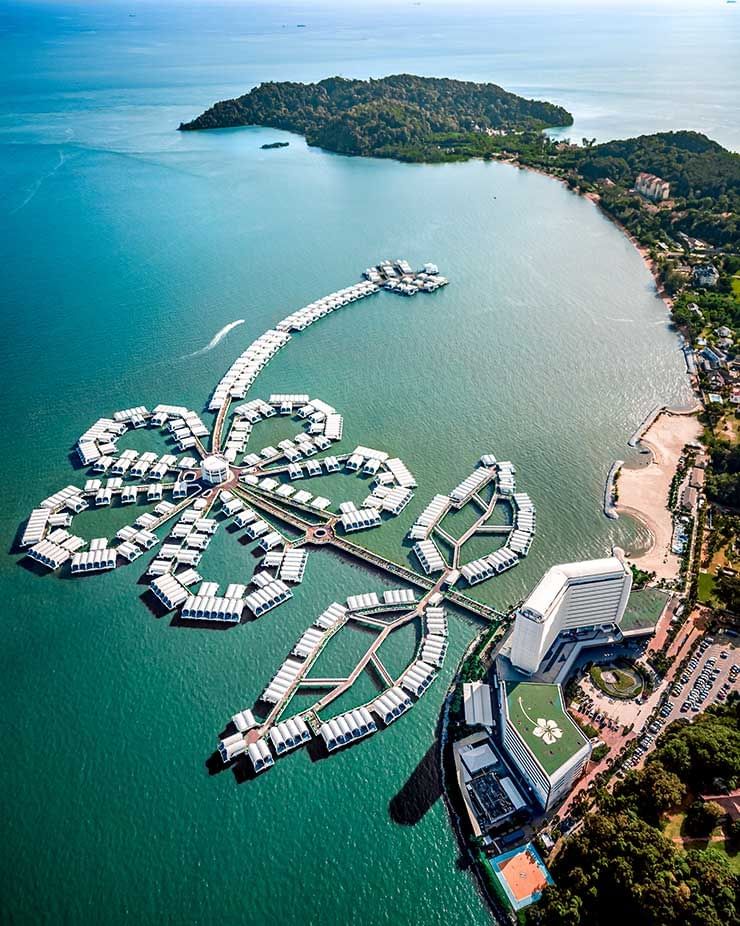 Known all over the world as one of the most Instagrammable overwater resorts in Malaysia, Lexis Hibiscus Port Dickson that is nestled in the strip of scenic beaches in Port Dickson definitely has more to offer besides its overwater villas with private pools that are reputed as the best in Port Dickson.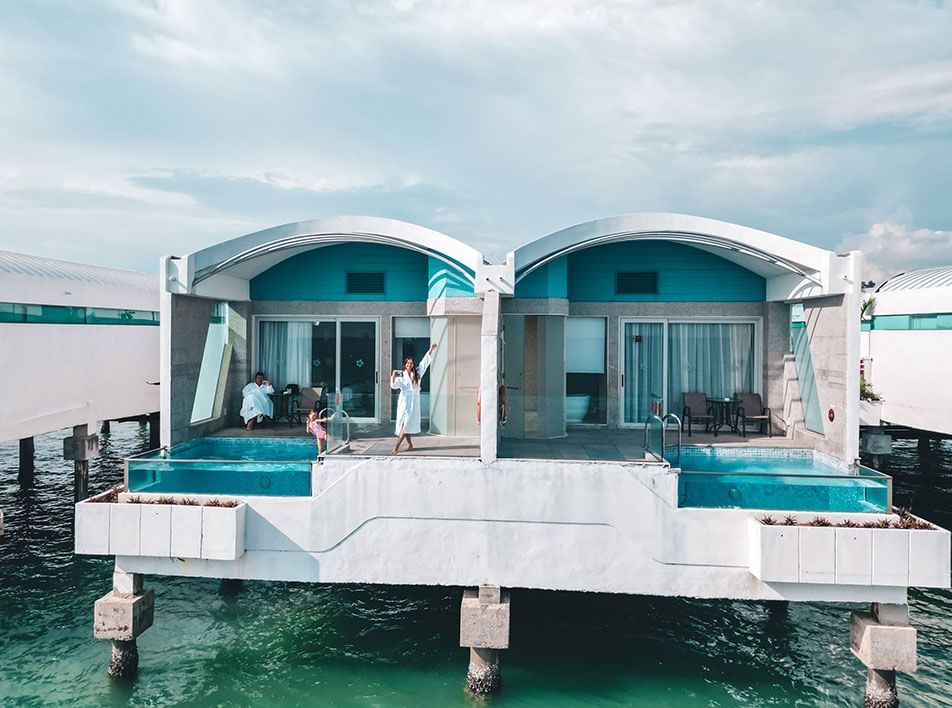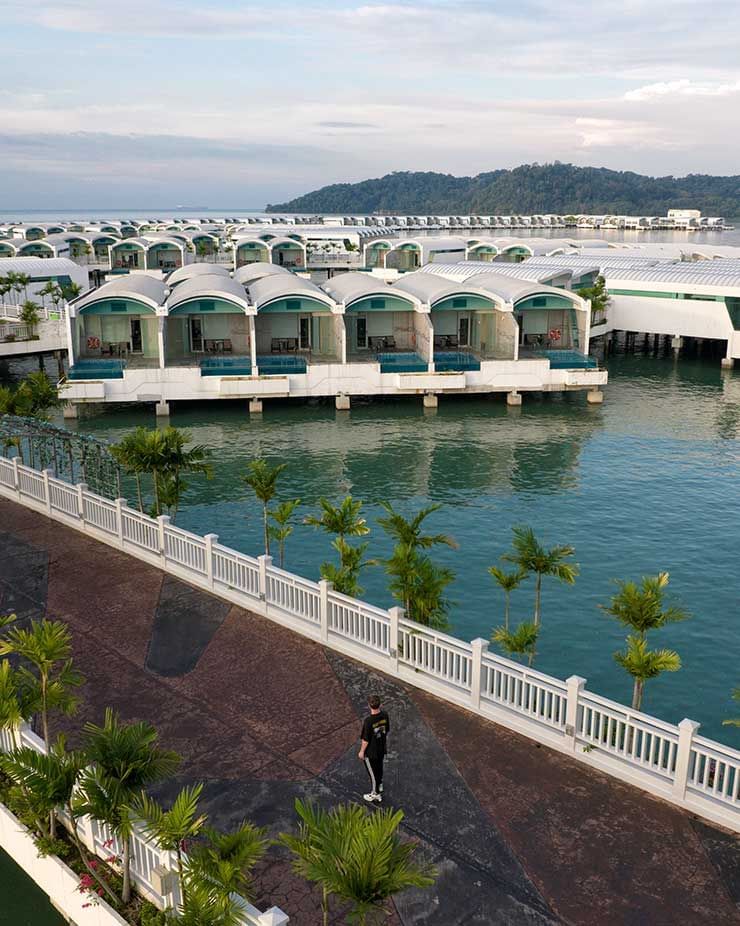 Holidaymakers from everywhere would throng the beaches in Port Dickson and check in to Lexis Hibiscus Port Dickson to revel in its luxuriously spacious private pool villas and take great delight in its five-star amenities and facilities. Stretched into the calm waters of the Straits of Malacca, the paradisiacal coastal terrain that surrounds Lexis Hibiscus Port Dickson also offers guests the chance to snap eye-catchingly instaworthy photos that would garner more eyeballs and incite vacation envy in others.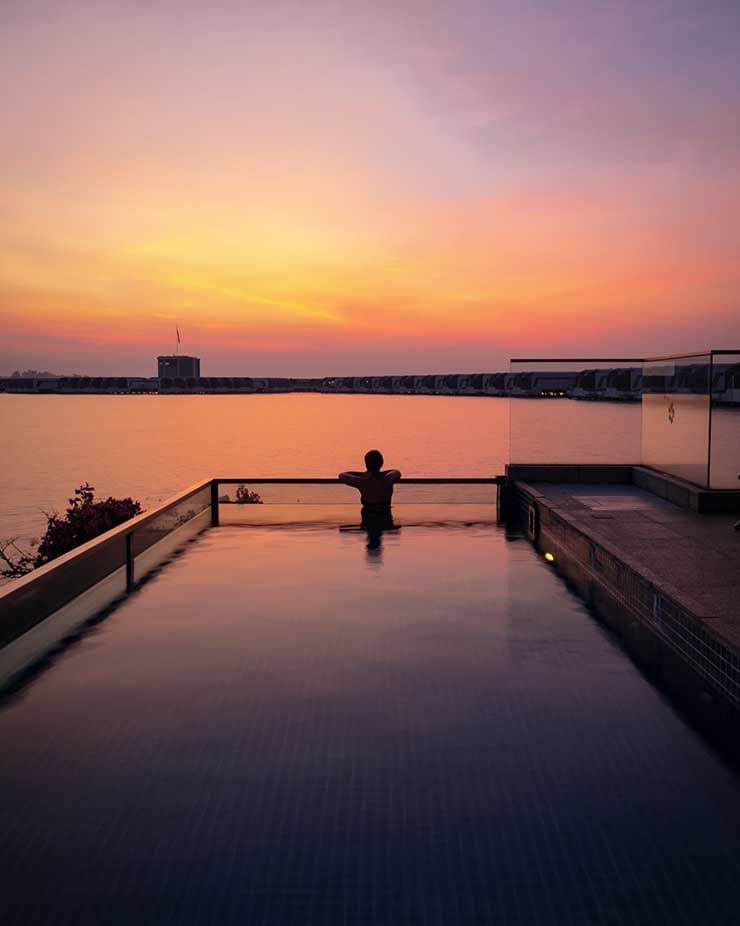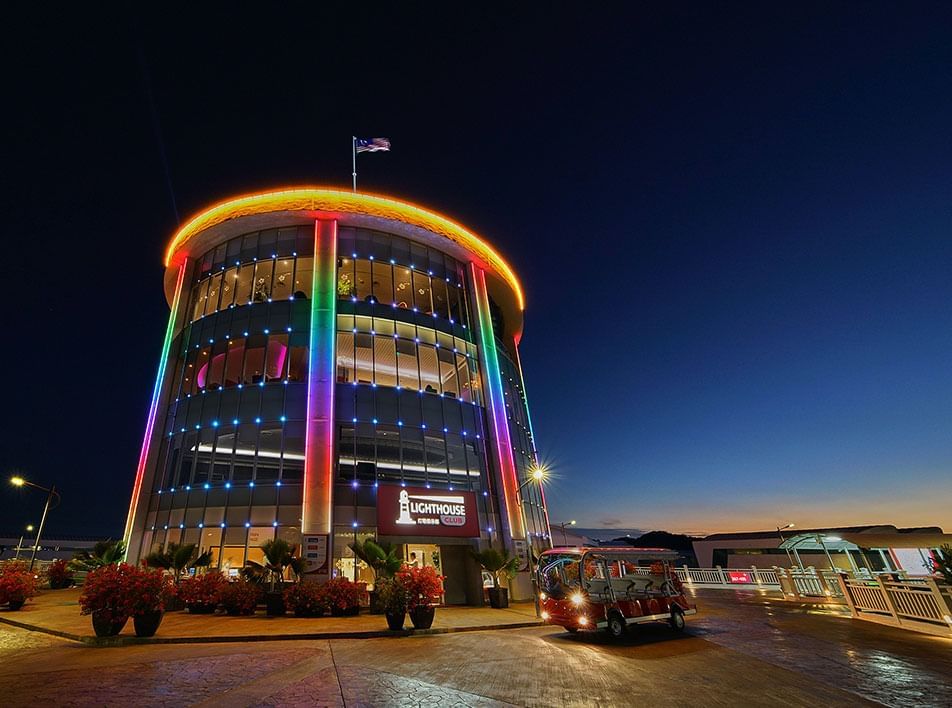 So be sure to read on as we share some of the best-kept secrets of where, when and how to get the most awesome photos during your next staycation at Lexis Hibiscus Port Dickson!

Nothing says "dream vacation" more than picture-perfect shots of you in our soft fluffy bathrobes, lazing around nonchalantly (preferably with a book or a glass of wine/sparkling juice in hand) on our plush king size beds or various tastefully designed and decorated corners of the most popular water villas with private pool in Port Dickson! Meticulously planned and mapped out, each water villa with private pool at Lexis Hibiscus Port Dickson is photogenic at every corner and embodies the ultimate blend of style and comfort.
In addition to the bedroom and living space, most room types also come with an oversized bathtub right next to a floor-to-ceiling window, so you can get the perfect lighting for those obligatory bathroom selfies while enjoying a luxurious bubble bath.
However, the most instagrammed spot in the pool villas would still be the private balcony that comes with all villas with private pool at Lexis Hibiscus Port Dickson. Exceptionally airy and equipped with everything you need for a blissful day of splashing fun under the sunny blue sky, every private balcony comes with outdoor sun loungers, coffee table, private pool as well as a steam room, making it the obvious choice for plenty of vacation photo-taking amongst guests.
Whether it's snapshots of you and your loved ones sunbathing or lounging by the private pool sipping ice-tea or coffee, or making a splash in the pool with some colourful floaties as props for that extra pool vacation vibes, fetching shots of your staycation in the trendiest villa with private pool in Port Dickson will surely garner countless likes and follow for your social media page!
2. Beach Next to Hibiscus Walk

Your #beachvacation posts wouldn't be complete without photos of you and your loved ones at the beach, and those who have been to Lexis Hibiscus Port Dickson would readily attest to the fact that the resort boasts one of the most photogenic beaches in Port Dickson!
Whether you intend to post a sunny selfie or photos and videos of yourself getting a kick out of various beach activities, the Lexis Hibiscus PD beach that is adjacent to Hibiscus Walk is easily within reach by foot. With its panoramic view of the majestic sea villas stretching into the sea on your left and unobstructed horizon where the ocean meets the sky on your right, you're basically guaranteed the perfect shots with a stunning backdrop from almost every angle. So don't miss out on the chance to brighten your feed with plenty of gram-worthy pictures of this spectacular beach in Port Dickson.
Make sure to spare at least an hour or two to hunt down all the instaworthy spots on this PD beach like the very popular "I ❤️ Hibiscus" sculpture, the huge wooden swing by the sea, the summer-vibing hammock under the coconut trees, the rows of colourful umbrellas and sunbeds and more.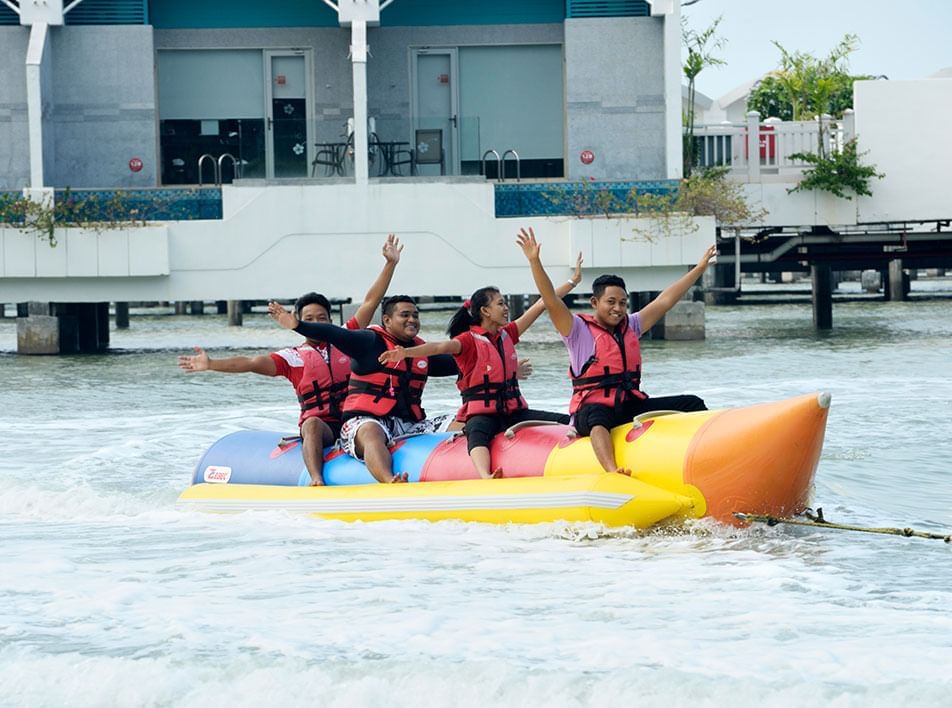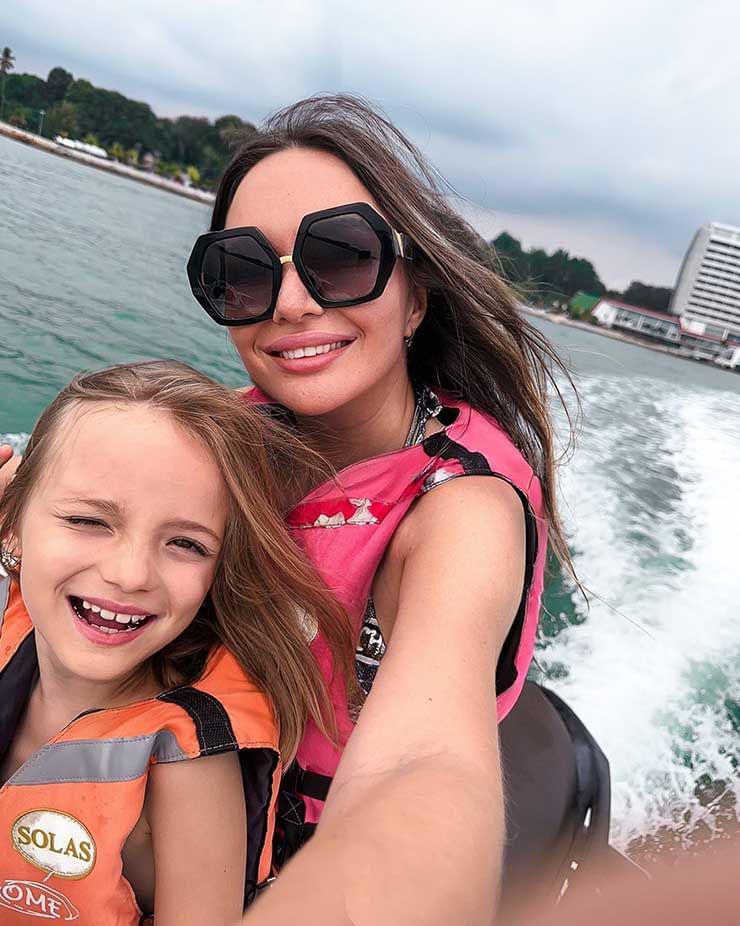 If you have an afternoon to spare, then create even more photo opportunities by trying the different beach and water activities that are offered at the Lexis Hibiscus beach in Port Dickson like archery, ATV ride, jet ski, banana boat, and more.

Little ones can also capture jovial and memorable moments at the children's fun fair located at Hibiscus Walk near the beach.
Other than being one of the hottest spots to relax while spending time with friends over a delectable selection of refreshments, the Satellite Restaurant & Bar in Port Dickson is also the vantage point for an aerial view of the Lexis Hibiscus! As soon as the sun sets in Port Dickson, this popular bar in Port Dickson will start to come alive with resort guests and visitors who are looking for a good time over a few drinks and some nice live music shows.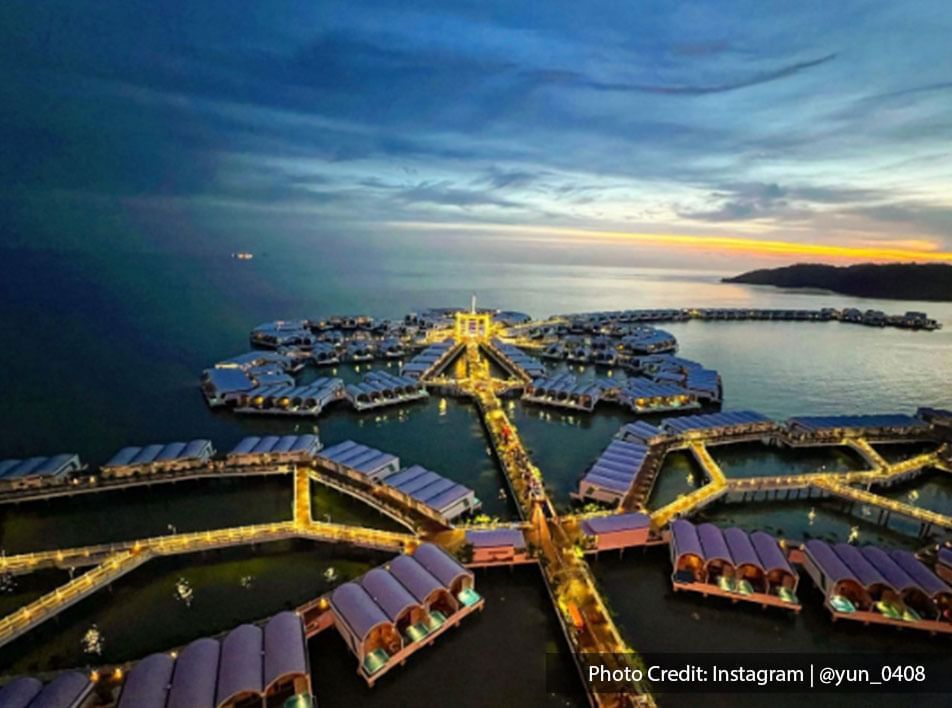 With a 180-degree view of the water villas and the sea, guests will also visit the Satellite Restaurant & Bar in Lexis Hibiscus Port Dickson just to take in the awe-inspiring view of hundreds of water villas stretching into the turquoise sea, as the view from here at night is just as spectacular as it is during the day.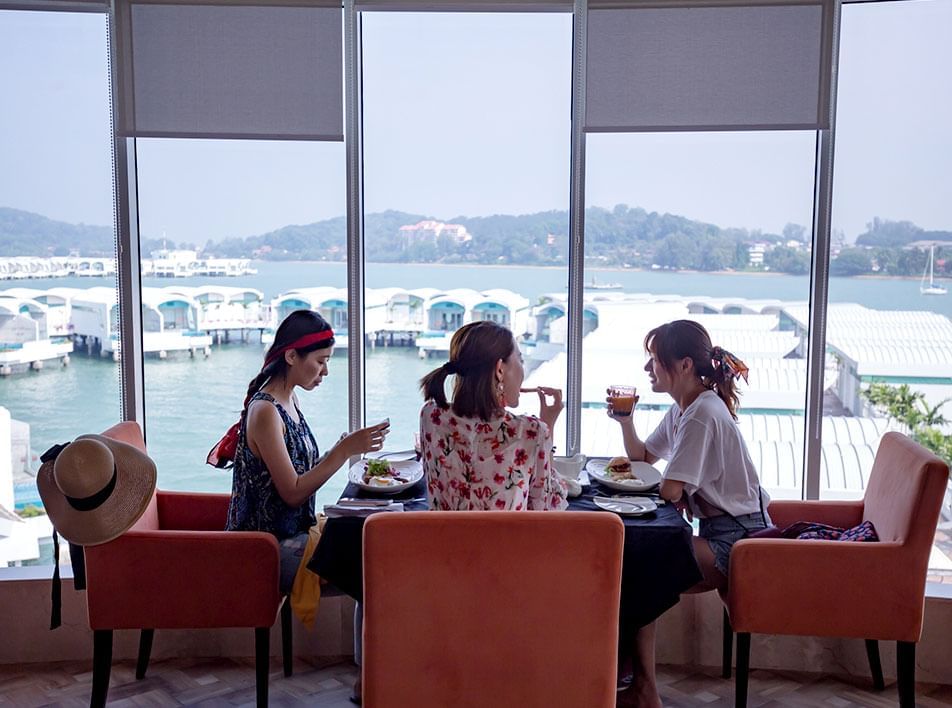 Another great instaworthy spot at the resort which offers one of the best views of the overwater villas with private pool in Port Dickson is Wave Dining. Located on the second floor of the Lighthouse Club at Lexis Hibiscus Port Dickson, rise and shine to a scrumptious breakfast or enjoy a romantic candlelit dinner with your closest family and friends with a breathtaking ocean view.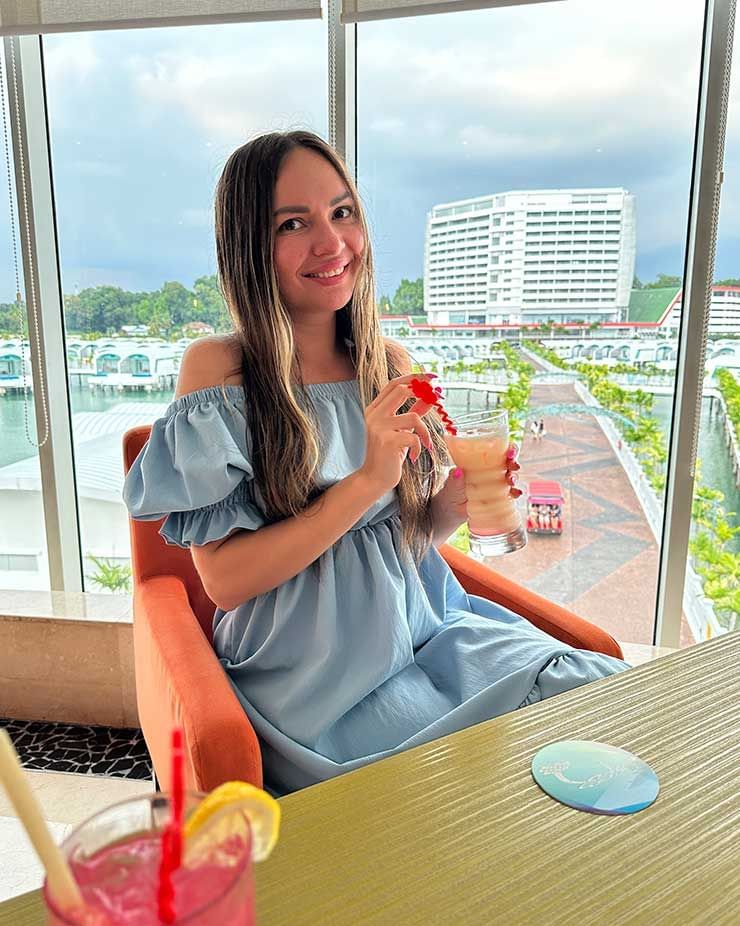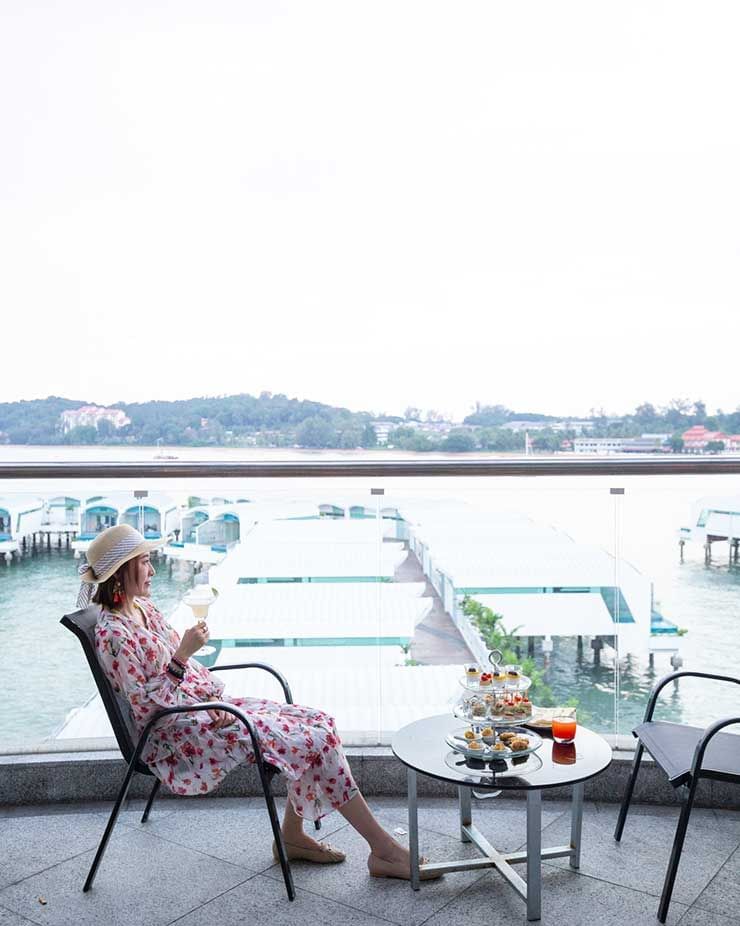 This dining outlet remains a popular meeting point for guests looking to catch a gorgeous sunset while they sip on evening cocktails.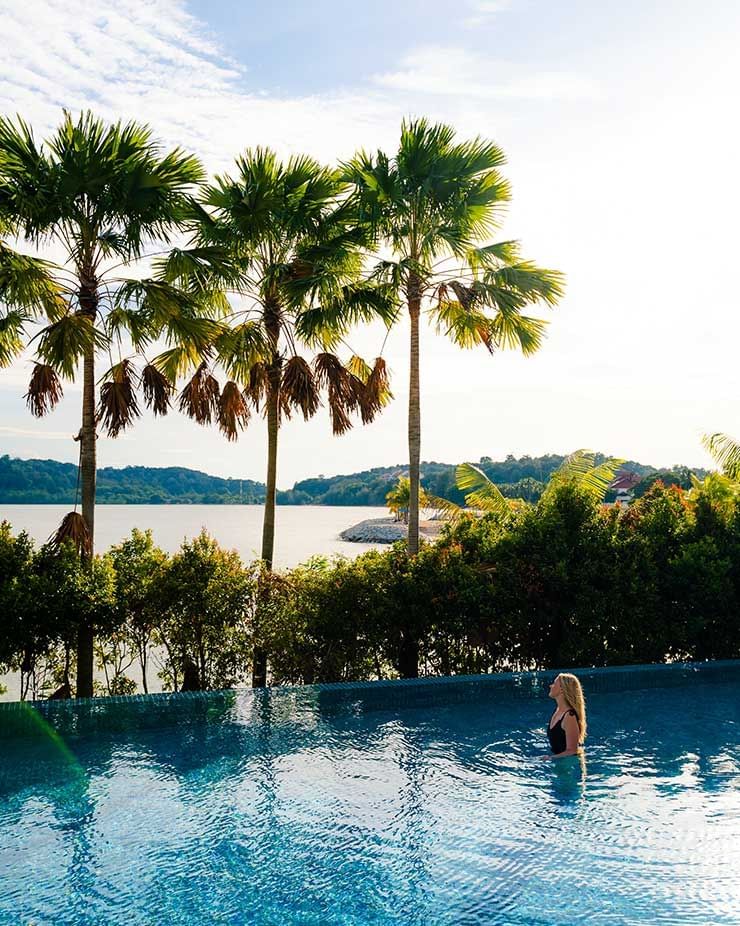 The outdoor swimming pool is not only great for swimming or working on your tan, but is also a fantastic spot to immerse yourself in the resplendent seascape and view of the water villas. The edge of the pool is right next to the ocean, blending seamlessly with the sea, allowing shutterbugs to snap wonderfully unique shots that simply oozes serious summer vacation vibes! Whether you're going for a poolside photo under a colourful umbrella sitting on one of the sunbeds, or a shot in the crystal blue pool water, the outdoor swimming pool provides excellent colour composition for every shot.
Don't forget to accessorise and glam up the shots with big sunglasses or even a fun straw hat! You can also wait for that moment right before the sun sets in Port Dickson for that bright red, orange sky that makes the perfect lighting for an artsier shot! Within a short walking distance from the outdoor swimming pool is the resort's jetty, which is also another excellent spot for the perfect Port Dickson sunset shot!
6. Overwater Villas' Corridors
Fellow fashionistas looking to capture their perfect #OOTD moments can strut their stuff and treat the overwater villas corridors as their personal runway.
At Lexis Hibiscus Port Dickson, concrete pathways stretch over the Straits of Malacca, connecting the beach resort's main building to the expansive overwater villas and suites that come with their own private pools and steam rooms.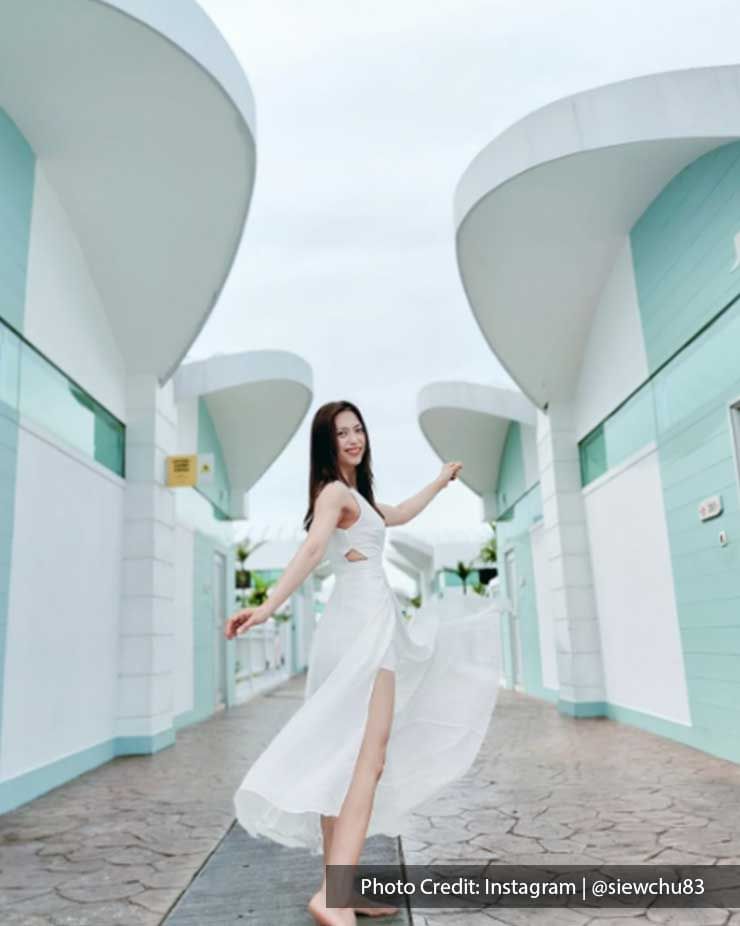 With the stunning backdrop of the sea, it's no wonder the walk to their villa inspires guests to capture its beauty. Don't forget to bring some attitude along with props like sunglasses, your favourite handbag or a beach hat to complete your look.
Now that you're in on the secret and are in the know of all the instaworthy spots at Lexis Hibiscus, it's time to book yourself a villa with private pool in Port Dickson and check out these places for yourself. Don't forget to make sure that the battery of your phone or camera is fully charged!