Wild West Cowboy Indoor Theme Park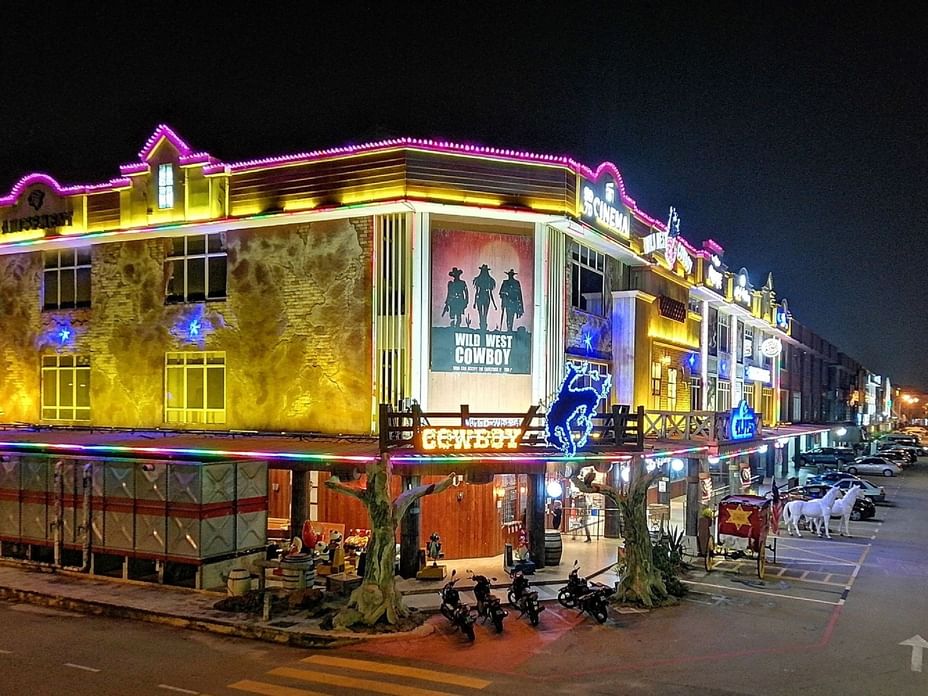 Wild West Cowboy PD is an indoor theme park and amusement park located approximately 30 kilometres away from Lexis Hibiscus Port Dickson. Catering to families with young children, the park offers colourful track and carousel rides, a video arcade, interactive games and a 5D cinema hall. Some of the major attractions include 5D Motion Adventures, 7D Interactive Movie, Amusement Park, Skunk Interactive Show and Awake Escape Game.
5D Motion Adventures
In 5D Motion Adventures, visitors may choose their favourite exciting story and make their way through by experiencing the effects of sound, lighting, wind, rain and the moving seats, just like being in the movie itself.
7D Interactive Movie
7D Interactive Movie on the other hand, comes with seven different special effects as well as an interactive gun that allows visitor to progress in the movie by shooting the subjects appearing in their way.
Amusement Park
This amusement park offers various rides such as Rider Boat, Wild West Desert Explorer, Cowboy-Go-Round and many more that may keep the little ones busy.
Skunk Interactive Show
Kids can interact with SKUNK, the famous character of Wild West Cowboy through a screen located in a small auditorium on the first floor of the theme park. They can dance, talk to him and make him happy, enabling them a chance to win free prizes.
Awake Escape Game
Adults should not fret as they can partake in the exciting Awake Escape Game. Located on the second floor of the park, Awake Escape Game features five different rooms with its own story, game and theme. Visitors will be locked inside a room and they are required to use their imagination and thinking skills to complete a mission. The themes include Dinosaur Century, Save the Princess, The Awakening of Pharaoh, Haunted Mansion and The Defence of Galaxy.
Visitors can take a break and have some refreshments at the Cowboy Café or indulge in a full meal at Burger King. A Cowboy souvenir corner is also available at Wild West Cowboy Indoor Theme Park Port Dickson, selling cowboy related items. Book a room now with us at Lexis Hibiscus Port Dickson and have some fun at Wild West Cowboy PD with your loved ones!
Entry Fee:
Wild West Cowboy Port Dickson price may differ according to the rides offered.

Map:
59-64, Jalan DS 2/1, Bandar Dataran Segar, 71010 Port Dickson, Negeri Sembilan, Malaysia
Monday10:00am - 7:00pm
Tuesday10:00am - 7:00pm
Wednesday10:00am - 7:00pm
Thursday10:00am - 7:00pm
Friday10:00am - 7:00pm
Saturday10:00am - 7:00pm
Sunday10:00am - 7:00pm