PD Ostrich & Pets Show Farm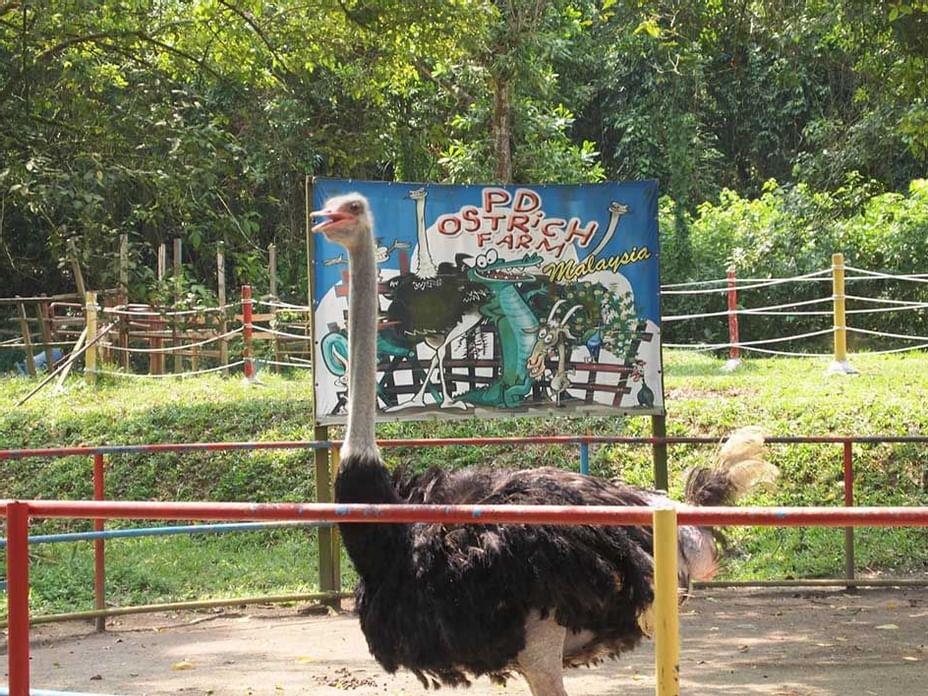 PD Ostrich Show Farm, or PD Ostrich Farm, is located approximately 5 kilometres away from Lexis Hibiscus Port Dickson. It is the area's main attraction and is popular among the locals as well as visiting tourists. You'll be warmly greeted by ostriches, who are the real stars of this beloved farm. Visitors may feed these giant birds, pet the affectionate creatures, race with them and even try to stand on ostrich eggs and be amazed at how durable their shells are!
Established more than ten years ago, PD Ostrich Show Farm also houses an aquarium for Malaysian freshwater fish. While ostriches are the main attractions of the PD Ostrich Show Farm, other residents include ponies, donkeys, goats, geese, turkeys, ducks and several breeds of rabbits as well as a variety of other friendly animals. Besides feeding the ostriches, chickens, ducks, geese, rabbits, guinea pigs and many other smaller animals who inhabit the farm, you are also allowed to ride the ponies, donkeys and ostriches. However, as a rule, visitors must weigh less than 75 kilograms to ride an ostrich. For the most part, visitors are more spectators than riders when it comes to appreciating these giant birds.
Just an 8-minutes' drive away from Lexis Hibiscus Port Dickson, the ostrich farm also provides adventurous outdoor activities such as archery, ATV rides, buggy rides and paintball. Besides that, there is also a dinosaur playground at PD Ostrich Show Farm. This fun playground comes with 15 dinosaur sculptures. It also has several dinosaurs that are powered by animatronics.
Some of the fun games available at the playground in PD Ostrich Show Farm include shooting the dinosaurs with guns or bows and arrows. 'Excavation' sites are also available for little ones to dig for fragments of dinosaur eggshells or the dinosaurs themselves. Visitors are encouraged to bring additional clothes so that they may change after a day of digging for dinosaur 'fossils' or riding ostriches, donkeys and horses.
Hungry visitors can also enjoy the different cafes at this delightful farm, including the Man's BFF Café (Malaysia's first dog café) and other stalls that offer local dishes such as ostrich satay, ice-cream and more delicious options for them to enjoy after all the fun they've had at the ostrich farm. If you'd like to dine outside, you may also visit the nearby restaurants. Enjoy scrumptious seafood, western dishes, local fare and even burgers sold at the local stalls.
PD Ostrich Farm's opening hours are from 9.30 a.m. until 6.00 p.m. The entry fee is subject to change and you may contact PD Ostrich Show Farm for more information. Want a fun-filled holiday trip at Port Dickson? Book a stay with us at Lexis Hibiscus Port Dickson and enjoy a memorable experience.

Entry Fee:
Feel free to contact PD Ostrich Show Farm for more info on the entry fee.

Map:
Lot 1419, Jalan Perdana 4, Batu 9, 71050 Port Dickson, Negeri Sembilan, Malaysia
Monday9:30am - 6:00pm
Tuesday9:30am - 6:00pm
Wednesday9:30am - 6:00pm
Thursday9:30am - 6:00pm
Friday9:30am - 6:00pm
Saturday9:30am - 6:00pm
Sunday9:30am - 6:00pm