Kota Lukut, Port Dickson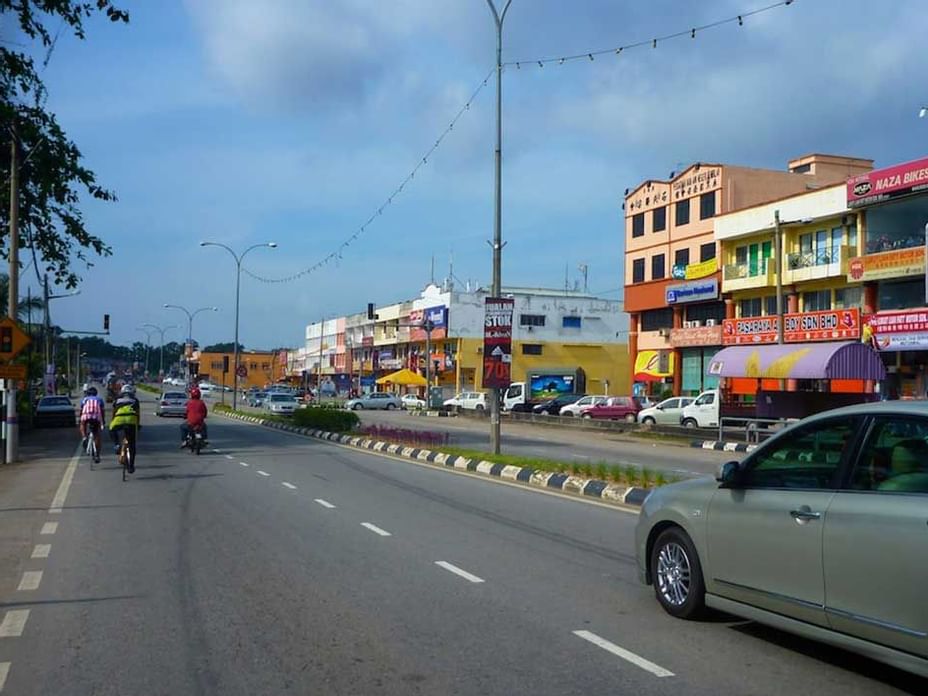 Kota Lukut is a small part of Port Dickson in the state of Negeri Sembilan in Peninsula Malaysia. Not many people are familiar with the name Lukut and may wonder what is there to explore in Kota Lukut. Kota Lukut is actually a small township between Seremban, the capital of Negeri Sembilan, and Port Dickson town. It's where all the beach resorts are located at.
In the earlier days, anyone who was travelling from the Klang Valley to the beach town of Port Dickson must pass through Lukut. The town of Lukut has a fascinating history that first began in 1824 under Raja Busu, a member of the Selangor royal family. Tin was discovered here, so Raja Busu encouraged Chinese migrants from the nearby Melaka to settle down in the area and work the tin mines.
Today Lukut continues to develop. There are more than just rows of wooden shophouses here now. If you ever find yourself curiously drawn to this place, here's some of the things and attractions you'd want to explore:
1. Kota Lukut
Lukut fort and museum is a well-preserved historical destination that you just can't miss. The fort was built in the mid-1800s as a security post by Raja Jumaat, who took over the running of Lukut from its founder Raja Busu. This fort was essential in securing the safety of tin mining activities in the area as well as monitoring incoming ships. You'll be able to learn more about the history of Lukut and see artefacts from the VOC Nassau, a Dutch ship that sank off the coast of Port Dickson in the 1600s.
2. Lukut Food Galore
Locals in Negeri Sembilan know Lukut as a haven for delicious seafood. Here, you'll find restaurants that have been around for decades. Visit any one of the Chinese seafood eateries that line the coast and you'll be rewarded with fresh fish, clams, prawns and crabs cooked in each restaurant's own signature style. Be sure to ask your server for the 'Chiu-Pai' or in-house specialty so that you can savour the best that Lukut seafood has to offer.
3. Fishing
If fishing is a hobby of yours, you'll be glad to know that Lukut is full of great spots for this pastime. It's also a favorite destination for enthusiasts who prefer to go further out from the coast while still enjoying the calm and restive seas. By far, the most popular fishing area is Kelong Mahmud, which can be reached by renting any fishing boats from Kuala Lukut. You can even bring your catch to the nearest seafood restaurant around. They'll gladly cook it however you desire for a small fee.
4. A Quiet Walk Around Town
Lukut town has many rows of shops that date back several decades. You can take leisurely strolls around these shops to see what's available for purchase. Drop by the local grocery store or 'Kedai Runcit' for a taste of what life is like in a typical small Malaysian town. You'll never know what rare items you may discover, reminding you of days of yore.
5. The 3D Museum and Wild West Cowboy Town
Lukut has some small theme parks, which are great for kids if you happen to be travelling with young ones. Here, you'll find plenty of great photo opportunities and interactive multimedia shows to enjoy. The Wild West Cowboy Town even has a small roller coaster and a giant swinging pirate ship.
Lukut may be a lesser known destination compared to the nearby Port Dickson, but it is no less interesting. You can head on down to Lukut, Malaysia for a taste of warm hospitality with a touch of rustic and sentimental charms.
If you're looking for accommodation during your visit to Lukut, you're always welcome to stay with us at the Lexis Hibiscus Port Dickson, which is 6.1 kilometres away from Lukut. Enjoy the perfect holiday in spacious and Balinese-style rooms. Booking a room is easy and all you need to do is call us at +60 6-6602626 or drop us an email at reservations@lexis.my. You can also book online right here and we'll get back to you the soonest.

Map:
Lot 730 Jalan Besar, 71010, Port Dickson, Negeri Sembilan, Malaysia