Wan Loong Temple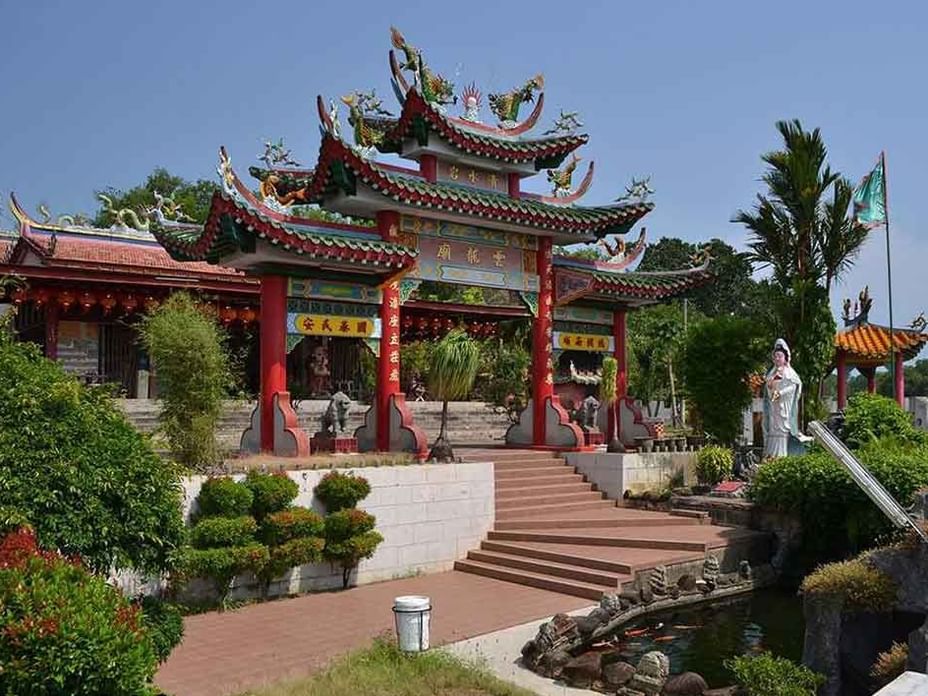 Located approximately 8.3 kilometres away from Lexis Hibiscus Port Dickson, Wan Loong Temple is a Chinese temple with opulent architecture and imposing fortress walls. Visitors driving to Lexis Hibiscus Port Dickson will not be able to miss Wan Loong Chinese Temple as it is clearly visible on the left side of the main road if they are coming south towards Malacca from PD Town. With its striking entrance, the name 'Wan Loong' means 'Dragon of the Clouds'.
Just like the name itself, Wan Loong Temple was constructed in the imposing shape of a giant dragon. Wan Loong Temple pays homage to several oriental deities including Kuan Yin (goddess of mercy) and the Monkey King. Wan Loong Temple, Port Dickson is probably the only temple in Malaysia that pay homage to the Monkey King or the Monkey god. The Monkey King, popularly known as Sun Wukong is a mythological figure who features in a body of legends which can be traced back to the period of the Song dynasty.
The Monkey King appeared as a main character in the 16th century Chinese classical novel Journey to the West. In the story, he was a monkey born from a stone and acquired supernatural powers through Taoist practices. He possessed immense strength, is witty and a skilled fighter. The Monkey god is famous among children and adults as they are attracted to his playfulness and curiosity.
Decorated with shrubs and fancy archways within the compounds of Wan Loong Temple, visitors will come across legendary figures from the classic novel Journey to the West such as the monk Xuan Zang and his companions, Sun Wukong and Zhu Bajie In Wan Loong Temple, there is also a man-made fountain that flows all the way to the temple's fish pond where visitors may toss their coins in for a 'good luck' charm. Besides that, there is also a pond filled with turtles and visitors are allowed to take pictures of them.
At Wan Loong Temple, visitors may enjoy the tranquillity and scenery surrounding the temple's complex by walking along the 'Great Wall' of Wan Loong Temple. At the temple, visitors are encouraged to perform their exploration quietly as to not disturb any prayer process. After spending some time at the Wan Loong Temple, visitors may walk over to the seafood restaurant located opposite of the temple. One can easily identify the restaurant as it has a magnificent Chinese architecture with striking bold colours which resembles a temple complex.
Wan Loong Temple is open throughout the year and the admission is free. So what are you waiting for? Come and book a room with us at Lexis Hibiscus Port Dickson and visit this cultural temple with your loved ones!

Entry Fee:
Free

Map:
Buddhist Temple, Kampung Teluk Kemang, 71050 Si Rusa, Negeri Sembilan, Malaysia