Pantai Cahaya Negeri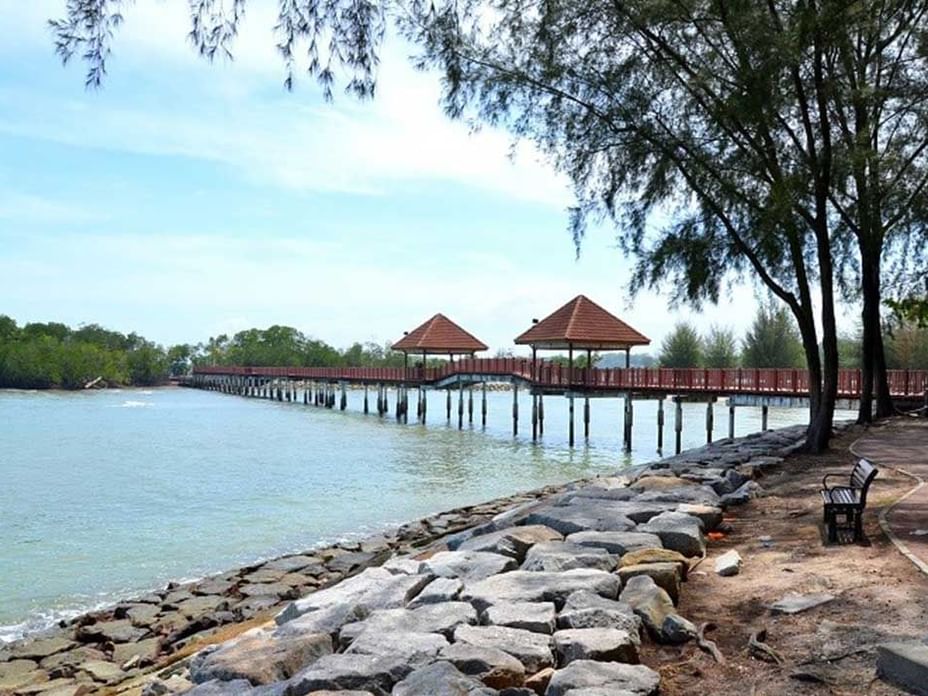 Pantai Cahaya Negeri, also known as Cahaya Negeri Beach or Pantai Cahaya Port Dickson, is a local beach situated 11.6 kilometres away from Lexis Hibiscus Port Dickson. Pantai Cahaya Negeri is a popular beachside destination among the locals, some even go as far as claiming that it is the best beach in Port Dickson. With its well-balanced natural beauty, tranquillity and public facilities, it is no wonder that many people love to spend time here with their loved ones. Bird Island or Pulau Burung is also located on the opposite side of the island.
The waters at Pantai Cahaya Negeri, Port Dickson are quite clean and the soft, powdery sand are extremely inviting, gleaming white when lit by the afternoon sun. Pantai Cahaya Negeri is a great place for family day activities, recreational activities or just for chilling out. One of the most popular activity that visitors enjoy doing at Pantai Cahaya Negeri would be fishing. Pantai Cahaya Negeri is the best spot for fishing activities and the location is so great that fishing competitions are also held here once a year during Festival Pantai Port Dickson.
Festival Pantai Port Dickson is a fun beach festival organized by the Negeri Sembilan Tourism Board. There are many activities and competitions held throughout the festival period at Pantai Cahaya Negeri such as beach soccer, volleyball, jet ski and banana boat race as well as marathons and many more. For visitors who prefer activities that are not so athletic, they can indulge in car boot sales, a food festival, live band competitions and even a make-up contest!
Besides that, Pantai Cahaya Negeri is also a great spot for photoshoots. Couples who are about to get married would have their pre-wedding photoshoots here due to the breath-taking scenery and gorgeous sunset. Most of the time, visitors would spend their day at Pantai Cahaya Negeri quietly with their loved ones, breathing in the smell of the sea while enjoying the quiet and peace surrounding the beach. Some visitors would have a barbecue session with their loved ones, some would even strum their guitar to liven up the mood.
For the convenience of visitors visiting Pantai Cahaya Negeri, the Ministry of Tourism and Culture has restored many facilities such as the souvenir shops, public bathrooms, surau, parking lots, food stalls and even a bridge which connects to the Bird Island or Pulau Burung.
Visitors who are looking for the nearest hotel to spend their night after a long day at Pantai Cahaya Negeri would need to look no more. Book a stay with us at Lexis Hibiscus Port Dickson to kick back and relax in your very own private dip pool and steam room after a long day of exploring Pantai Cahaya Negeri!

Map:
5, 71050, Port Dickson, Malaysia