Photo Credit: Weibo | @lilith991桑桑
Best Halal Restaurants in Port Dickson For All Foodies
Published January 8, 2021

Thanks to its geographical advantages, Port Dickson is not only a well-loved holiday destination for those seeking to getaway to sunny beaches and beautiful water villas, but also a far-famed seafood paradise for local Malaysians, Singaporeans, and travellers from all corners of the world. Without a doubt, this charming coastal town lives up to its reputation, with countless restaurants serving up the best and freshest seafood you could possibly find in Port Dickson.

But even if you're not a seafood lover, fret not as there are plenty of other mouth-watering offerings served at some of the best muslim-friendly restaurants in Port Dickson. So if you are a full-fledged foodie enjoying a relaxing vacation at Lexis Hibiscus Port Dickson with your family and friends, in addition to the delectable offerings you get to relish at Wave Dining, UMI Japanese Restaurant, Roselle Coffee House, Coralz Bistro and Hibiscus Walk, you can further appease the avid foodie in you with an off-the-cuff gastronomic hunt and try out some of the most famous food in Port Dickson.

Here's part one of our list of top best halal restaurants in Port Dickson to help you kickstart your gastronomic hunt today!
1. Kim's Seafood Palace 大晶宫

Head to Kim's Seafood Palace for the ultimate seafood dining experience. Make sure to try out their signature dish - the Banana Leaf Fish, which comes highly recommended by diners for its freshness and deliciousness.

Serving up some of the best seafood in Port Dickson, this crowd's favourite is considered by many as a must-eat when visiting Port Dickson. This comes as no surprise as the place offers appetising Chinese seafood dishes and a sweeping view of the waterfront.

You can choose to dine inside the spacious air-conditioned sections inside the restaurants, or enjoy the sea breeze on the open deck facing the spectacular waterfront. The setting of the restaurant is considerably upscale and modern, with dining tables set out banquet style. The well-lit space is thoughtfully decorated and furnished with quality tablecloths and cushioned seats.

The must-eat dish that comes highly recommended at this Port Dickson restaurant is the Banana Leaf Fish. Served on a banana leaf, your salivary gland will be instantly titillated at the sight and aroma of a whole fish fried to crispy golden perfection and dripping with savoury spicy sauce that hits all of your taste buds at just the right places.

This handsome dish packs so much flavour and aroma that you will absolutely want to come back for more! Overall, it is safe to say that this place absolutely deserves the positive reviews it receives online as one of the best seafood restaurants in Port Dickson.

Address: 26, Persiaran Water Front, PD Waterfront, Jalan Pantai, 71000 Port Dickson, Negeri Sembilan. (Next to McDonald's)
Opening Hours: 11:00am – 2:30pm (Lunch) ; 6:00pm – 10:30pm (Dinner) – Every Monday to Sunday
2. Double Queue Thai Cuisine

Savour authentic Thai food like Pineapple Fried Rice at one of Port Dickson's best halal restaurants, Double Queue Thai Cuisine.

Voted as one of the best restaurants in Port Dickson on several review sites, Double Queue Thai Cuisine is considered a must eat for many regular Port Dickson visitors. Also located along Persiaran Waterfront, this unexpected gem serves the best authentic Thai food in Port Dickson with a delicious morsel of seafood at very affordable prices.

The ambiance is also excellent with sleek dining spaces that are always kept neat and tidy at your every visit, decorated with potted greeneries and mirrored walls. The service here leaves nothing to be desired as the friendly staff always welcome you with warm smiles and bright cheery dispositions.

When your order is served, you will first be impressed by the appetizing food presentation. Then prepared to be blown away by the delectable taste, especially if you order their Signature Tom Yum Soup, as the intoxicatingly rich aroma and taste of shrimp, chili, lemongrass, lime, coconut milk and spices will engulf you whole and leave you craving for more.

Their Signature Pineapple Fried Rice is another must eat masterpiece at this Port Dickson Thai culinary heaven. This Port Dickson restaurant is also extremely thoughtful and accommodative in providing vegetarian options upon request for the famous food it serves.

Address: 4-G-18 Persiaran Waterfront, 71000 Port Dickson, Negeri Sembilan. (Right opposite Caltex Petrol Station)
Opening Hours: 11:00am – 11:00pm (Daily)
3. Restoran Seri Mesra Ikan Bakar & Seafood

The coastal town of Port Dickson is home to delicious ikan bakar varieties. If you love grilled fish, go to the famous Restoran Seri Mesra Ikan Bakar & Seafood which is said to serve some of the best ikan bakar in town.

This popular seafood restaurant serves some of the best grilled fish in Port Dickson and every visit here warrants you a belly full of content. The food here is so famous that almost every weekend the place would be packed to the brim with locals from Port Dickson itself, as well as visitors hunting for a taste of the ocean.

So if you happen to be around on a weekend and planning to try out their must-eat Port Dickson ikan bakar, then the best bet would always be to make a reservation beforehand, or you can choose to come to this Port Dickson halal seafood restaurant as early as possible. With the high demand, there is also a high chance that the seafood might be sold out if you are here later in the evening.

The ikan bakar here is carefully flavoured before being grilled to perfection. Their unique grilling technique ensures that the fish retain their natural moisture and tenderness. You also get to choose to enjoy your grilled fish with either plain white rice or nasi lemak (steamed coconut milk rice). So if you're hunting for the best halal food in Port Dickson or looking for a hearty dinner to be shared with your family or friends, this Port Dickson restaurant is one of the best choices you have.

Address: No. 3 & 4, Teluk Kemang Square, Batu 7, Jalan Pantai, 71050 Teluk Kemang, Negeri Sembilan.
Opening Hours: 6:00pm – 12:00am (Daily)
4. Deen's Fish Head Curry/ Restoran Deen Berjaya

Deen's famous Fish Head Curry is a must when you're in Port Dickson.

The next restaurant is so famous in the Port Dickson food scene that it has achieved a "legendary" status among the locals of Port Dickson, as it is one of the best fish head curry restaurant in Port Dickson.

This longstanding Port Dickson restaurant is definitely a must eat for those who favour the rich spicy taste of fish head and vegetables cooked in thick aromatic curry gravy. Throughout the years, this place has retained its rustic look of steel gates surrounding its extensive dining space, exuding an old-school vibe of small-town canteen-style eateries that is guaranteed to bring back memories.

The famous food at this Port Dickson restaurant is off course their signature dish-- fish head curry. Simmered with slow fire for hours to create its signature texture and taste, their fish head curry comes packed with a punch, as at the first sip of its thick aromatic broth, your taste buds will be overcome with an unbelievable tang and gustatory pleasure that you may never get enough of, as evidenced by most of their best regulars who have been returning to this Port Dickson restaurant for years just for another taste. Other delightful Malaysian favourites available on their menu are roti canai, tosai rawa, capati, vadey, murtabak etc.

Address: Jalan Dato'K. Pathmanaban, Bandar Port Dickson, 71000 Port Dickson, Negeri Sembilan.
Opening Hours: 6:30am – 4:00pm (Daily*)
*Closed on Fridays
5. Kafe Kampung Kaw

Indulge in a hearty Malaysian breakfast at Kafe Kampung Kaw with traditional Malay delights such as mee goreng, nasi lemak and ayam bakar.

This famous food joint in Port Dickson is popular for its local Malay cuisines. If you are visiting Port Dickson and looking for the best halal restaurant to have a hearty Malay-style breakfast early in the morning then this is definitely a place worth considering. Serving up some of the best Malay food in Port Dickson, the menu here is unique and authentic. The set up of the place is also worth mentioning as it is a reminiscence of traditional Malay coffee shops, with rustic wooden furniture arranged within an open-air dining space.

The menu pays homage to traditional Malay dining, with an impressive menu of various must-eat items that are on their own worth the journey to Port Dickson. Their signature dishes include nasi lemak with grilled lamb/chicken and barbecue mutton/ribs toast. Another item on their menu that puts them in the list as one of the best restaurants in Port Dickson is a traditional Malay kuih – Kuih Gemok. Also don't forget to wash all these delicious dishes down with a cup of their hot Teh Tarik!

Address: PT3038, Jalan Haji Sirat, Kampung Baru, 71050 Port Dickson, Negeri Sembilan
Opening Hours: 8:00am – 2:30pm (Daily*)
*Closed on Mondays

If you're looking for the best halal restaurants to try out on your next getaway to Lexis Hibiscus Port Dickson, then these Port Dickson restaurants should definitely be on your list as they each offers some of the best muslim-friendly food that are not to be missed. Book your stay at Lexis Hibiscus Port Dickson as a day trip will hardly be enough time for you to try all the must-eat dishes that they have to offer.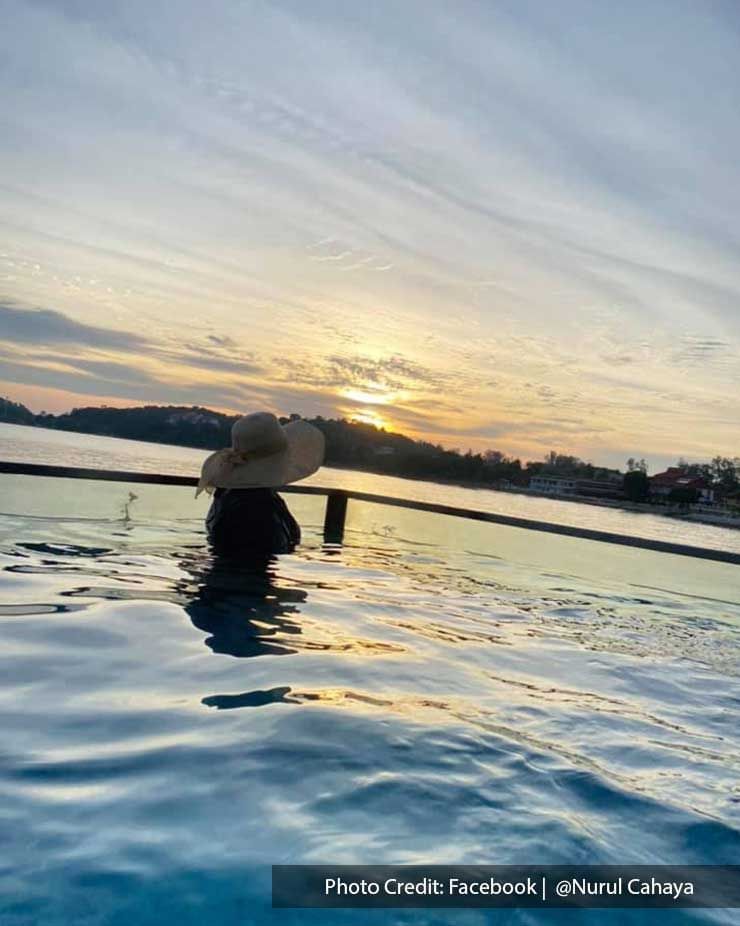 The best part is, after indulging in all these good food, you can retreat to the comfort of your water villa and burn off all the calories in your very own private pool! After a few laps your stomach will be growling to be fed again and you're all set to go for another round of famous food that only Port Dickson has to offer.
Can't wait to try out all these best restaurants in Port Dickson with your family and friends? Book your stay now!