Pantai Seri Purnama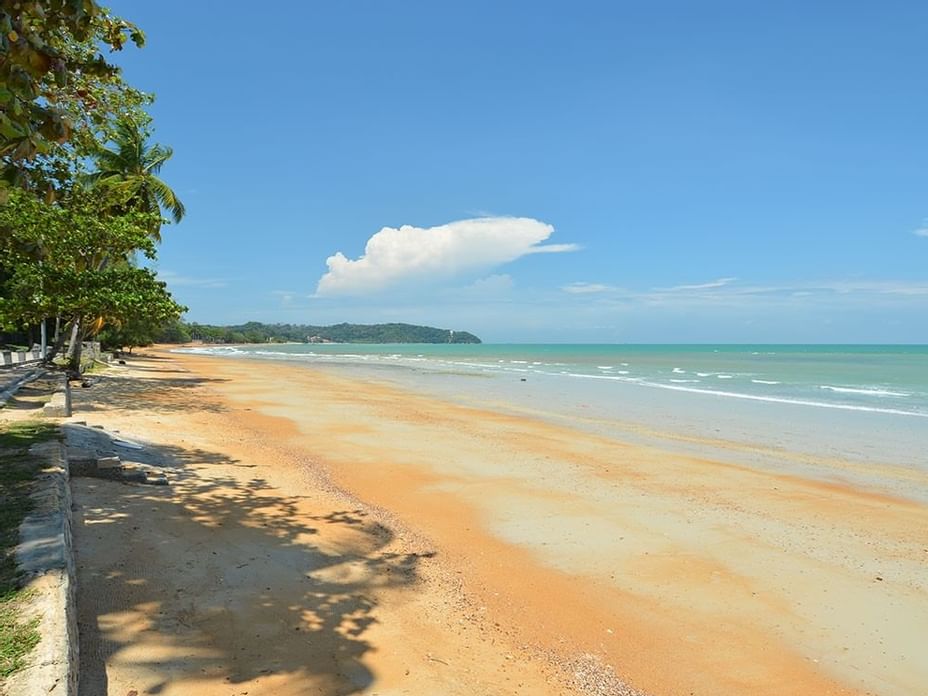 Located approximately 5.2 kilometres away from Lexis Hibiscus Port Dickson, Pantai Purnama Port Dickson or also known as Pantai Seri Purnama Port Dickson or Seri Purnama Beach by locals is a secluded beach hidden behind apartment blocks, forest and main roads. 'Purnama' which translates to 'Moonlight' in English, refers to the peaceful environment surrounding the beach which sets a romantic mood and atmosphere, making it a popular beach destination especially for couples.
At Pantai Purnama Port Dickson, visitors may splash around or take a dip in the sea waters as the water itself are clean and clear with fascinating rock formations and landscapes that reveal themselves at low tide, especially near the eastern portion of the beach. Just 8 minutes' drive away from Lexis Hibiscus Port Dickson, Pantai Purnama Port Dickson is also an ideal place for camping, as the area is wide and spacious. Many visitors would bring their own tents or rent a tent at the stalls and camp around the beach whilst enjoying the peaceful environment and scenery. During the night at Pantai Purnama Port Dickson, some campers would bring their own entertainment equipment and fill the quiet night with sweet melodies of music while other visitors would chat away and indulge in their own activities.
Many visitors enjoy visiting Pantai Purnama Port Dickson as well due to the various facilities and services provided such as public restrooms with showers, food stalls, souvenir shops and many more. Besides that, visitors may also enjoy the available activities provided at Pantai Purnama Port Dickson such as water sports, crabbing and many more. Conveniently, visitors may also conduct their own beach activities and it is highly recommended to organize them during the evening as the water starts to recede.

So what are you waiting for? Book with us at Lexis Hibiscus Port Dickson for a fun and memorable getaway!

Map:
Jalan Kemang 12, Tanjung Tanah Merah, 71050 Port Dickson, Negeri Sembilan, Malaysia