Blue Lagoon Beach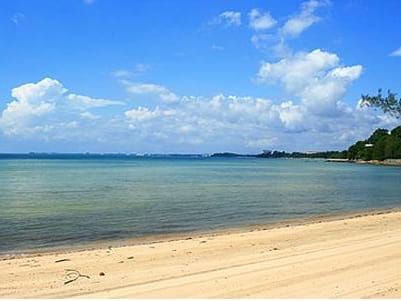 Located about 3.7 kilometres from Lexis Hibiscus Port Dickson, Blue Lagoon Beach is a small, but popular beachside destination in Port Dickson, Malaysia. It can be easily accessible by car and is approximately 5 minutes away from Lexis Hibiscus Port Dickson. Sheltered by a dense cover of lush vegetation and forests from surrounding foothills, Blue Lagoon enjoys a delightful tranquillity, even with many visitors around. If you like to relax on the beach while enjoying wildlife activity, Blue Lagoon is the best beach spot in Malaysia. Due to its proximity to the Tanjung Tuan Forest Reserve, wildlife sightings are common, including migratory birds, squirrels and monkeys.
At Blue Lagoon, the sea waters are calm and shallow. Blue Lagoon is one of the perfect seaside escapes, especially for picnics and beach activities. During the day, visitors may organize fun things to do such as beach volleyball, frisbee, building sandcastles, collecting seashells, kayaking or just chilling out with friends and family. During low tide, you can see different types of small coral reefs, which sometimes attract scuba divers. When night falls, visitors may camp at the beachside or venture out beyond the shore to fish.
Souvenirs and beach accessories can also be found from the rows of shops located near the Blue Lagoon's entrance. Adults may enjoy spending time checking out the variety of keepsakes such as keychains, stationery, beach gear and clothing. Kids might be interested in the colourful beach toys and inflatable pools on display. For your dining pleasure, enjoy the local dishes available at the small food court along Blue Lagoon.
Intrigued by all that Blue Lagoon Port Dickson has to offer? Then make your reservation at Lexis Hibiscus Port Dickson, one of the best PD resort villas and hotels in Negeri Sembilan, for an unforgettable stay!
Entry Fee:
Free

Map:
Batu 10, Jalan Pantai, 71050 Port Dickson, Negeri Sembilan, 71050, Si Rusa, Negeri Sembilan, Rumah Peranginan Persekutuan Port Dickson, 71050 Si Rusa, Negeri Sembilan, Malaysia Malaysia